Together, we make learning come alive!
Help us move closer to our big vision: a garden in every school and a school in every garden.
We know the world needs engaged leaders, equipped with the skills, knowledge and motivation to work for the health of our food system, our environment and our communities. We also know that gardens are a great place to grow such leaders!
"I truly believe [Little Green Thumbs] helped my students have a clearer and first-hand look on how everything on the earth supports each other."
– Grade 5 Teacher, Sutherland School, Saskatoon
Your gift goes to work right away.
Where does your money go?

$25 gives seeds for one class for an entire year

$50 provides soil for one classroom garden

$100 sends 100 student journals to Little Green Thumbs across Canada

$250 buys a lighting kit for an indoor garden

$500 helps train one Little Green Thumbs teacher
All donations are tax-deductible and will be acknowledged with a mailed receipt.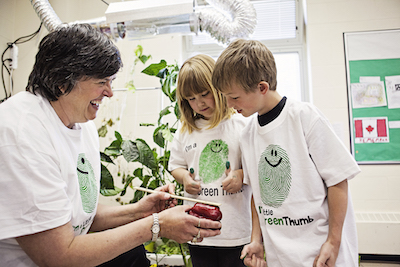 <script id="ch_cdn_embed" type="text/javascript" data-page-id="33857" data-cfasync="false" data-formtype="1" src="https://www.canadahelps.org/services/wa/js/apps/donatenow/embed.min.js"></script>
Prefer to mail in your donation?
Donations can be mailed to:
ATTN: Little Green Thumbs
Agriculture in the Classroom
RR#4, Box 278, Site 412
Saskatoon, SK
S7K 3J7
Would you like to discuss your donation, or are you a business or organization interested in sponsorship or in-kind donation?
Our Funding Partners help our gardens grow!