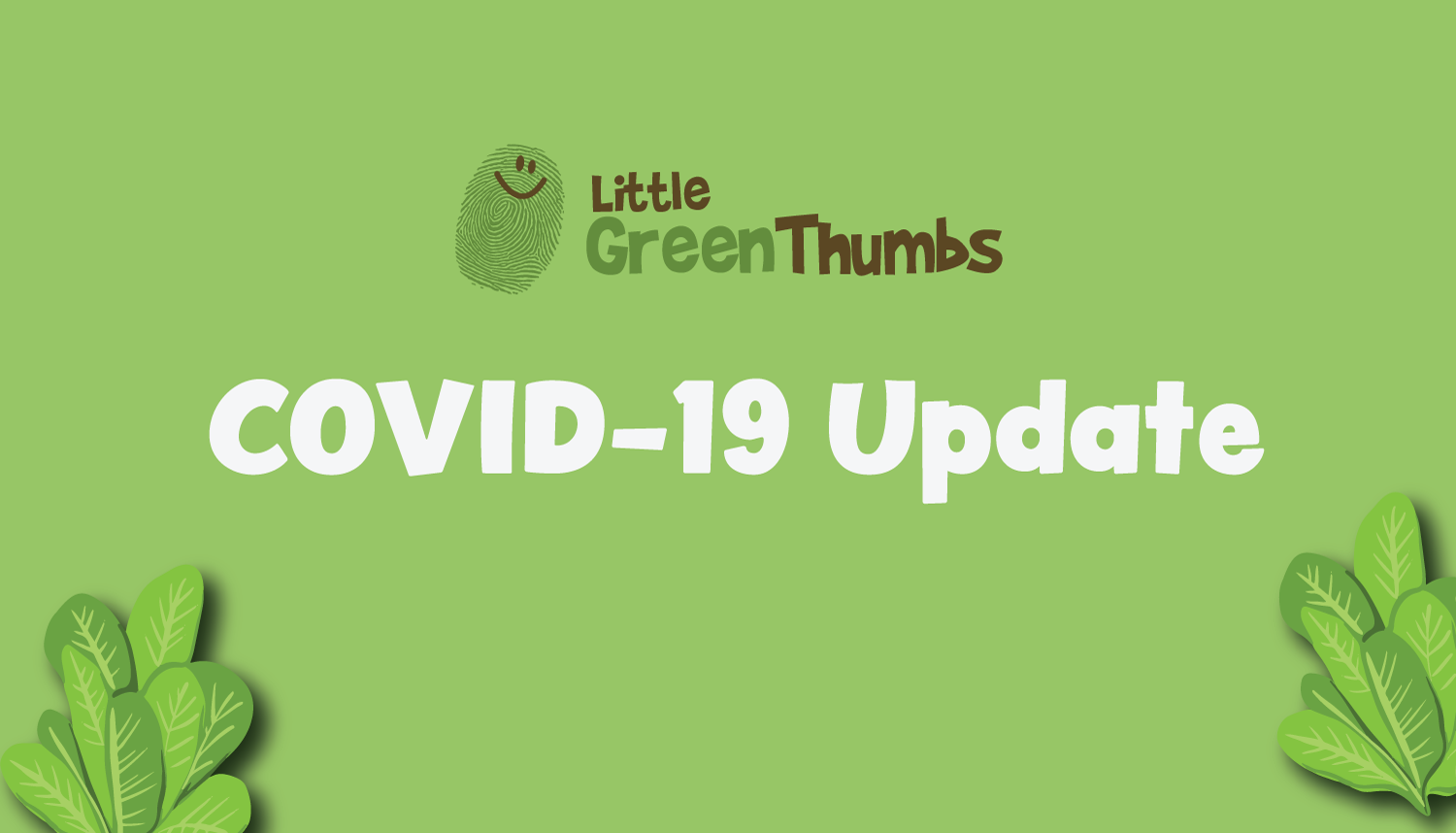 Hi Little Green Thumbs teachers,
Due to the recent class cancellations as a response to COVID-19, we want to provide some information regarding the care of your gardens and vermicomposting bins during extended absence, as well as information regarding available support to you and online/at-home resources for students.
On this page, you will find information for the following:
Guidance for caring for your garden (up to 2-week absence)
Guidance for caring for your worms (up to one-month absence)
Information regarding supplies for next year and the LGT year-end survey information
Available support for this school year
LGT online and at-home resources for students
We understand that the timelines for return to classes differ across provinces and may change in the upcoming weeks.
We are looking at the responses for Little Green Thumbs, based on either long-term cancellation or short-term cancellation. We don't want any Little Green Thumbs teachers to lose sleep over the maintenance of their LGT garden, whether experiencing a short-term or long-term cancellation. In the case of long-term closure, we encourage you to dismantle your garden for this year, sterilize and store your equipment for the next school year. If you require additional support for your garden, please reach out to your local LGT coordinator.
Generally, your garden is designed to survive through a 2-week absence, and your worm bin should survive with proper preparation for up to 1-month, without any intervention. Please find extended information for the care of your garden and worm bin below.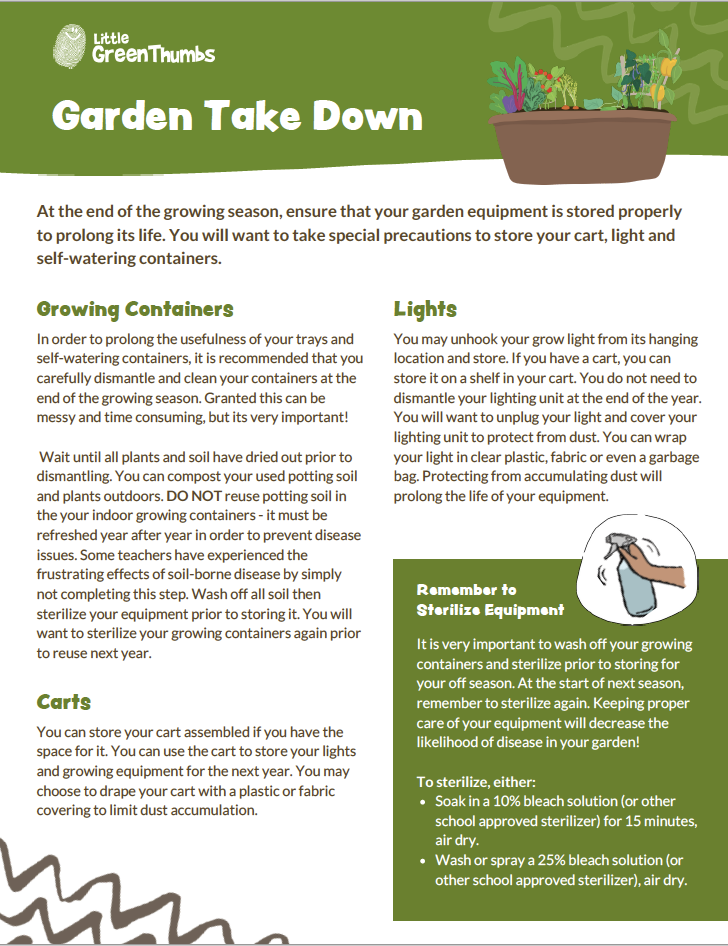 Your local coordinators will be available to you for support over the upcoming weeks and remainder of the school year.
We will be in touch with you over the next month with information regarding ordering supplies for your next year's garden, as well as providing some feedback on your year, in lieu of a more substantial LGT year-end survey. Your coordinators will be in contact with you regarding this at a later date.
In the next few days, Little Green Thumbs will be posting various at-home activities, handouts and supports that can be utilized by Little Green Thumbs teachers as you prepare for at-home instruction.
These resources will be posted on to the Little Green Thumbs website, and all LGT teachers will be informed of the direct link. We will continue to populate this page with short activities and student hand-outs are developed.
If teachers will continue to grow their gardens in the classroom, we will provide guidance regarding how teachers can share the garden progress with students remotely, along with at home activities that will extend the learning. This guidance will be posted on the Little Green Thumbs website at the same link as activities and student hand-outs.
We will send out this link to activities, hand-outs and resources to teachers on Wednesday March 18th, and continue to populate this page with ongoing resources. These resources will also be available on the Little Green Thumbs website.  
Keep your Garden Healthy over Extended Absence (up to 2 weeks)
Your Little Green Thumbs garden has been designed to survive for 2 weeks without interaction and with the proper preparation. Try these simple tips to make sure your classroom garden stays healthy and vibrant over a two-week period of absence.
1. FILL YOUR WATER RESERVOIRS
The simplest tip: remember to fill your water reservoirs below your growing boxes right before you leave.
2. TRANSPLANT ANY SEEDLINGS INTO LARGER CONTAINERS
Planting seedlings will help prevent them from drying out. Remember to water them well once you plant them in the larger containers. Smaller seedlings will not survive a 2-week absence.
3. PLACE DAMP NEWSPAPERS OVER THE TOP OF SOIL.
Place a few layers of damp newspaper on soil as mulch, to prevent evaporation.
4. TRIM FOLIAGE OF MATURE PLANTS THE DAY BEFORE LEAVING
Trim foliage of mature plants the day before leaving so they will require less water during your absence.
5. BUILD A MINI GREENHOUSE OVER YOUR POTTED PLANTS
Cover pot with a transparent plastic bag, lifted with bamboo poles. Poke a couple holes in the bag for oxygen.
6. USE STICKY TRAPS TO CHECK FOR PESTS THE WEEK BEFORE
Place a few sticky traps in the garden & monitor for a few days to ensure there are no signs of pests. If you do see pests, begin treating with our soap spray recipe (link to on resource pace). Remove affected leaves, and if needed, remove the entire plant in case of serious infestation.
7. SET TIMER TO 8 HOURS OF LIGHT
Double check that your timer is set for 8 hours of light each day. This will be a far decreased amount of light time than you have used in the past and is used to conserve water in your garden and limit growth. Once you return to your garden, set your timer back to 10-14 hours of light.
Caring for your VERMICOMPOST BIN in extended absence (up to 1-month)
The most important considerations for your vermicomposting worms will be to ensure that they have been fed before you go and that the worm bin moisture level is not too dry or too wet. It is highly recommended to take your vermicomposting bin home if you can during the closure period, or you might offer it to a student to take care of during this closure.
Your worm bin should have the moisture consistency of a wrung-out sponge. If it is too dry, add some water. If it is too wet, add some extra newspaper bedding.
You will want to feed your worms the amount of food they will need for the period that you will be away. Worms generally eat about half their body weight a day in food scraps. That means if you have a pound of worms, they can eat a half pound of food scraps.
Generally, a Little Green Thumbs worm bin can use up to 1 litre (a yoghurt container) of food scraps each week. You will probably have a good idea of what your worms can eat in that period if you have been taking care of your bin for a while. Simply extrapolate that amount to the period that you will be away.
If in doubt, we suggest adding 3 yoghurt containers (3 litres) of food scraps for a month that you will be absent. This will allow enough food for your worms, without being too much food to overwhelm the bin. Be sure to avoid adding any bread that could lead to molding and always ensure that the food is completely covered by the newspaper bedding.